Stay in absolute luxury
The pinnacle of absolute luxury located in the hub of the beautiful Tasman region. Relax while you retreat and rejuvenate in the sumptuous European designed decor, complemented by the natural surrounds of the extensive Te Koi property and the ever changing Estuary right at your doorstep.
The perfect escape into peace and tranquility. Relax with a glass of local wine and a one of our Italian influenced cheese boards, while you ponder the ever changing tidal vastness of the Waimea Estuary and its array of birdlife.
Our Villas are set on the water's edge, featuring your own private terrace that opens out to views across the Waimea Estuary to the Richmond Ranges. Careful attention has been paid to making your stay an unforgettable experience with complete privacy
A rare find in the region, this private and exclusive Residence is ideal for families or couples wishing to stay together whilst enjoying the privacy of their own independent spaces. Experience ultimate luxury and indulgence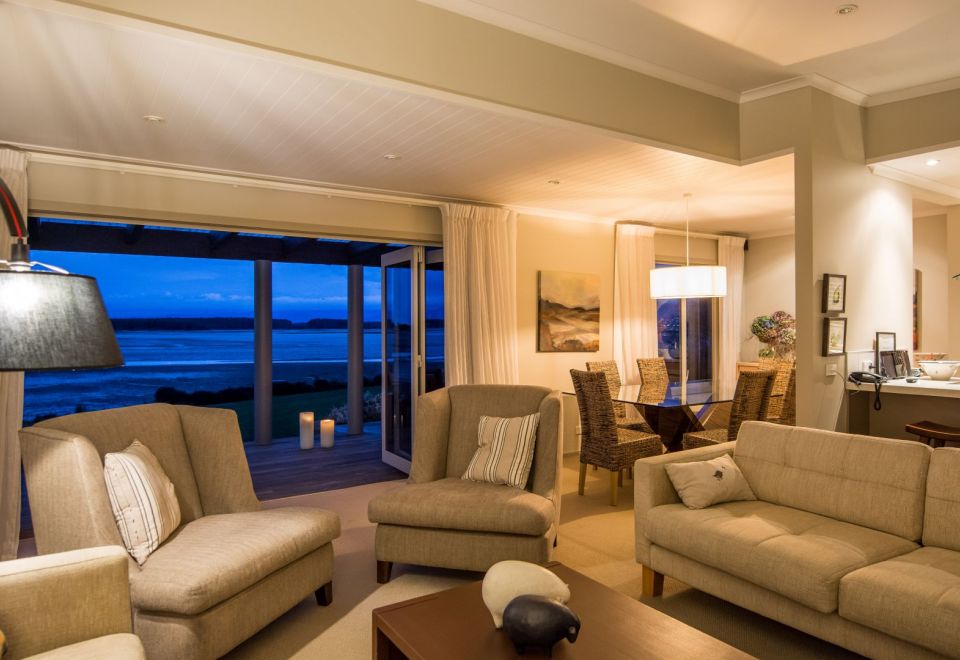 What our guests have to say
This was the outstanding stay on our 6 week trip. Quality was the ever present ingredient with superb lodges, fantastic food and seamless help, enthusiasm...
Steve, Bristol, United Kingdom
This was our first stop of several in New Zealand and in many ways the most memorable. Ian and Ali went out of their way, but without being the least...
Don Beach, McLean, Virginia
Can highly recommend this Lodge. The hosts were very welcoming and friendly. The two little dogs were a delight too! Our suite was very comfortable and...
Nikki, North Bovey, United Kingdom
Read More